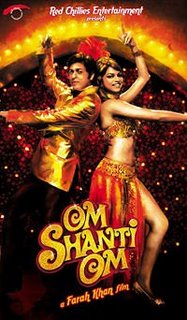 I missed the finale of So You Can Think You Can Dance, but I was rooting for Katee & Josh and am happy to hear that Josh won. He nailed every dance I saw him do (Katee did too), and had so little training, it was amazing to watch.
My favourite dance they did was the Bollywood routine Dhoom Tana Om from the movie Om Shanti Om. I don't know anything about the film, but the song is a captivating orchestration of Indian instrumentations and vocals that incorporates tradition, flare and humour.
I loved Katee & Josh's dance so much, I wanted to share it with you, but when I found the original scene from the Bollywood film the performance was taken from, I knew I'd have to include it above, because it is quite a spectacle! Enjoy!
Now, Katee and Josh's performance:
Ah so fun! I so enjoy Bhangra music, but have very little of it! Do you have any suggestions for quality Bhangra that I and my readers may enjoy?