I have a dream… a dream of a grand trip in an RV… without plan, only means… guided by impulse & interest… through the states, provinces & territories of North America. Diners, wineries, mountains, waves, hot springs, my camera, notebooks & coloured pencils. Experience, inspiration & creation. This trip is going to be something else.
I started acting on this dream late in 2014… shopping for used Class C RVs. I found one a while back that just seemed perfect, a 1976 21′ GMC Frontier. She was a cutie & had been loved to bits by her previous owners. When she was on the market I deliberated & researched until it was too late, she was purchased under me 5 minutes prior to my arriving to buy it. Sadness ensued.
I continued to watch craigslist for the sort of RV I wanted… they were few & far between. Then when Betsy came up for sale, I jumped on her… I didn't want to miss it this time. Pity I later came to find this lady had not been loved nearly as much as the Frontier.
Now Betsy… a 1981 Vanguard is an old bird, I knew there were troubles & thought she needed me to love her back into shape in the form of repairs & TLC. One of the previous owners was a DIY sort of fella & had done some funny work on her. I took her to 3 different repair shops over the month to get her in travel condition. The first place, a run of the mill automotive repair shop, replaced a gas tank & exhaust system stuff, a battery & brakes on the front end & fixed up the steering block or something like that. When I picked it up from them they were adamant that I drive Betsy to Chillawack (about an hour away) & back then bring it back to them so they could re-check her. Well I did attempt this, but when I got to Abbotsford I looked the gas gauge & thought it best to stop for gas… thinking about how much of a gas guzzler she is, I searched through my purse & backpack, but alas, no wallet was to be found. Fuck.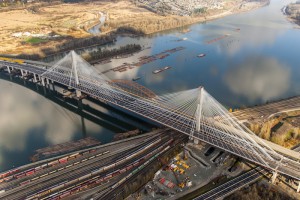 I went in to try to bargain for gas, but failed horribly… there is really no sympathy to be found in a gas station, at least not at this one. I figured I had one option… head back home & hope for the best… well it was a heroing drive… watching the needle hover under the E for miles, then just as I was thinking I was going to make it, Betsy's gas ran out in the worst possible place… smack dab in the middle of the Port Mann bridge. Now, not only is this super dangerous, it's also illegal. No stopping no matter what. I was in the right lane with no where to pull over. There were semi's honking at me & drivers giving me the finger as I was freaking out trying to find the stupid switch to turn the hazards on.
I had my phone, on which I found my AMA membership number & the number to call. While on hold for them the cops came to assess the situation. They called a tow truck in the hopes theirs would arrive more quickly & one of those massive yellow trucks with the big arrow lights to wait behind me. The cop didn't ask for my license luckily… his aim was to get Betsy off that bride a quickly as possible.
About an hour later after dealing with two tow truck drivers who were both a little confused about who each should be doing, Betsy had 5 gallons of gas in her & I was headed to the nearest gas station, from which I took a cab to get my wallet & then return to fill 'er up.
A day or two later I took her up to the RV specialist for work on the house, including a hot water heater, the only thing I knew I would have to replace when I bought her, some work on the plumbing, a little electrical work & the installation of a 100 watt solar panel system with inverter so I could do wild camping when ever I liked. The bill was high, but I was feeling good about Betsy's ability to get power directly from the sun. My sights were on the road… but first, back to the mechanic so they could check 'er out after I had driven her for a bit.
The next morning I went down to start her up & she wouldn't even turn over. There was lots of gas in her & a new battery… wtf? I called AMA again, & they came to give me a boost. Okay… she started. Maybe they sold me a crap battery. Hmm.
Back at the first shop, up on the jacks they discovered the cause of her very terrible oil leak, which they likely didn't tell me about it the first time, because they couldn't identify the source. Oil was leaking rather persistently from the crank shaft seal that was not only installed wrong, but was totally the wrong part. This shop wasn't confident to fix it so the sent me to an engine specialist as the whole engine would have to be taken apart to fix this. With so much money already invested I went for it. Canada Engines in Surrey did the job. I was super impressed with them. Seriously. It wasn't cheap, but they were professional & clearly knew what they were doing. They were also able to sort out why she wouldn't turn over. She has 3 batteries, 2 for the house & one for the starter, but the one for the starter was jiggered into the system for the house through a strange system a previous owner had been put in. They were able to change this around to how it should be… the starter battery isolated, so it's always powered to start the truck, no matter the power usage in the house the night before. Getting this sorted was essential… I was so pleased they could fix it. After picking her up from them, with several thousand dollars spent at the 3 shops, I was confident she could get me where ever I wanted to go.
Umm… well… yeah. My confidence was unfounded.
I set out on my big trip, with the first plan being to make my way to Arizona to spend time with my Dad. I was originally hoping to spend Christmas with him, but Betsy spent too much time in the shop for me to make it there on time. Figuring its better late than never, I headed out.
With only an hour spent at the border, including a secondary search, I was certainly on my way. I headed to Bellingham to get an American cell phone set up & to buy some weed… 'cause hey… I can't pass up on the opportunity to purchase marijuana legally! A rather civilized experience involving vacu-sealed grams. Not too shabby. Then back to the I5.
10 minutes in & she's slowing down without reason… my foot's on the gas and the tank is nearly full. She full out stopped & the engine shut down. Awesome. I was able to pull off to the side, start her up & drive to the next exit. I pulled off, headed to a gas station. I put $5 of gas in her, just in case she was out of gas but lying about it… nope… full gas tank. I head out, not really knowing what to do. I make some turns & end up on a quaint residential street. She slows down, stops & the engine gives out again, in the middle of the road. This is Christmas eve.
I call AMA again, they send someone out… I settle in to wait… & a bit of a breakdown ensues in the back. Where the hell am I & what the fuck am I doing?
I'm crying as I hear a knock at the door. Its the people who live in the house I broke down in front of coming to offer assistance. So nice! I tell them I have a tow truck coming. They insist that I come in while I wait. The offer me whisky & food. I had a really nice time getting to know these people as they prepared a roast for their beef dip Christmas eve dinner. It was so good to be welcomed so warmly by complete strangers as my dreams of my grand trip were fizzling under a shitty alternator in a 33 year old RV.
Eventually the tow truck driver arrived & Betsy & I got a ride back to the border, where we were met by a Canadian tow truck who towed us home. She is now sitting in the parking lot below my condo, waiting for me to get her towed to the shop again, to get her alternator fixed or replaced.
Three calls to AMA… the signs abound. Now is not the time for this trip. Through all of my experiences over the past month trying to get this old girl road ready I've got to say that it's as though the Universe is saying to me… Brahmina, you are really more of a princess than a trailer park girl, stop trying to fit a round peg through a square hole… live up to your new name! You deserve better than this. So I'm letting Betsy go… I'll get her towed back to the shop to fix her alternator so she'll start again & then put her up on craigslist or something. She is so much improved from when I got her… someone will love her right, someone she would like to travel with. Someone who is not me.
I have enjoyed this process of taking care of Betsy… I learned lots about RVs, which I know will serve long term, because my grand trip will happen… but with a vehicle that wants to go with me. I also re-sharpened my sewing skills making curtains for the RV & a bunch of fluffy pillows that fit just fine on my bed at home. I got into creating things I otherwise wouldn't have… & learned some stuff too. All is well… the RV the suits me is one her way… I'm looking forward to to meeting her.