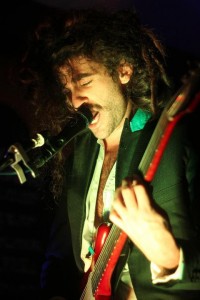 I had the very special pleasure of seeing Mumford and Sons play at the Vogue theatre last Saturday. The show was everything I hoped it would be, with lots of energy and passion, dancing and sing-alongs. Be sure to check them out when they have a show near you.
I had not heard of the open act, King Charles, before the show started. I was happily surprised to discover his awesomeness. Seriously, anyone who can get up in front of 1100 people, in the tightest, white pants I have ever seen, and ask the crowd, "Have you noticed how tight my pants are?" is some kind of something special!
It wasn't just his chutzpah I was impressed with, his songs are unique, with very interesting lyrics, and his voice is quite lovely. Give him a listen:
King Charles just released a 2 song ep, called Alone On The Throne
, on iTunes and Amazon. Check it out for more!
The best part of King Charles's performance was his fabulous re-make of the Billy Joel classic We didn't start the fire, which he has this video for, that I believe, he does not appear in!